Starfire, one of the Teen Titans, is the latest DC Comics character to make her way into Fortnite.
Starfire brings with her a new set of superpowers that players can use to take on their opponents. Her abilities include flight, super strength, and the ability to shoot energy blasts from her hands. In addition, she comes with her own unique back bling – a pair of jet-powered wings.
Perhaps personifying "good vibes" the most of the Teen Titans, Starfire unleashes her energy in Fortnite during Chapter 3 Season 3. The Starfire Outfit joins the Teen Titans Set and is available now in the Item Shop along with accessories!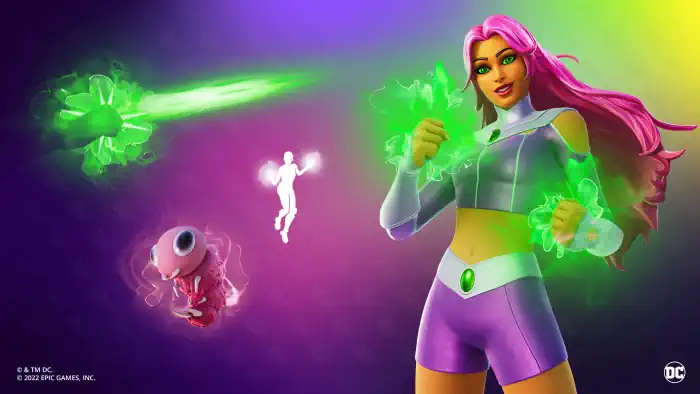 Not one to leave behind her friends, Starfire brings her pet larva with her by means of the Syl'Khee Back Bling (included with the Starfire Outfit). Carry "Silky" on your back as you swing the Starbolt Pickaxe, a mass of energy projections produced by Starfire's fist. Also, show Tamaranean powers in a beautiful display with the Starfire's Flourish Emote (can be used with any Outfit).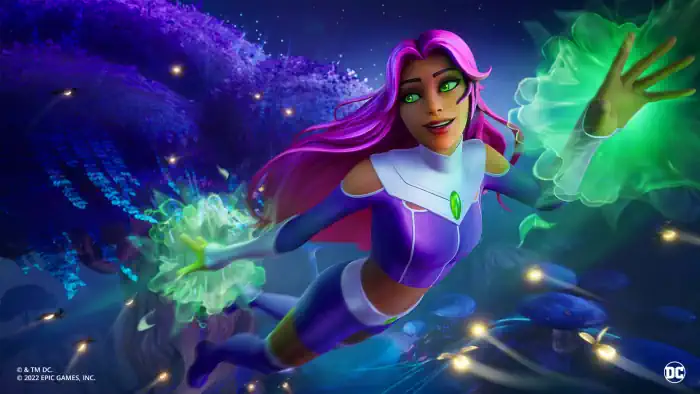 The Starfire Outfit (+ Syl'Khee Back Bling), Starbolt Pickaxe, and Starfire's Flourish Emote can be purchased individually or via the Starfire Bundle, which additionally includes the Starfire Flies Loading Screen. 
Enter battle with this Teen Titans founding member, Princess of Tamaran, and faithful friend!