The world of Fortnite is about to undergo another exciting transformation with the upcoming release of Chapter 4 Season 3. As fans eagerly await the unveiling of new features and additions to the popular online game, Epic Games has teased players with a glimpse of what's to come.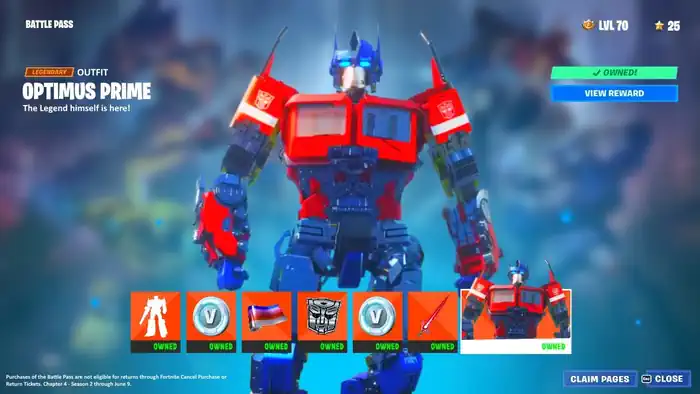 With a release date set for June 9, 2023, players can anticipate thrilling new areas and items to explore in this futuristic, anime-inspired season.
One exciting addition to Chapter 4 Season 3 is the inclusion of jungle biomes, which promise to add a new dimension to gameplay. These lush areas are sure to provide players with new challenges and opportunities as they explore the wilderness and battle it out with other players.
Alongside this, players can also look forward to the debut of an Optimus Prime skin, which is sure to be a hit with fans of the Transformers franchise.
With so much to anticipate, the countdown to the release of Chapter 4 Season 3 is well and truly underway.
Fortnite Chapter 4 Season 3 will feature jungle biomes and a futuristic anime-inspired style aesthetic.
The season will include an Optimus Prime skin in the battle pass and exciting new mythic items.
The exact start time for the season has not been confirmed, but it is set to begin on June 9, 2023.
Fortnite Chapter 4 Season 2 had great crossovers like the Star Wars event Find the Force and the ongoing Fortnite x Spider-Verse crossover.
Release Information
Fortnite Chapter 4 Season 3 is set to commence on June 9, 2023, and is expected to conclude on September 23, 2023, according to Epic Games. However, the exact start time for the season has not been confirmed yet.
Epic Games' marketing strategy for the season includes the introduction of jungle biomes and an Optimus Prime skin in the battle pass.
It is also possible that Epic Games will introduce changes in gameplay mechanics with the release of Fortnite Chapter 4 Season 3. This could include adjustments to weapons, vehicles, or building mechanics, among other things.
As with previous seasons, it is likely that Epic Games will release patch notes outlining any significant changes to the game.
Fortnite players can expect another exciting chapter in the game's history with the release of Season 3.
Season Features
The upcoming season will introduce new areas and items, including a highly anticipated addition that has caused excitement among players. Fortnite Chapter 4 Season 3 will feature jungle biomes, which were last seen in Chapter 2 Season 1. This return to the lush greenery of the jungle has been met with enthusiasm from players, who are eager to explore this new environment.
The Jurassic Park-esque Stealthy Stronghold from Fortnite Chapter 2 has been cited as one of the writer's favorite areas in the history of the game, and fans are hopeful that the new jungle biomes will offer similarly exciting experiences.
Additionally, the season brought exciting new mythic items to the game. These powerful items offer unique abilities and are highly sought after by players. While the exact nature of these mythic items is currently unknown, their inclusion in the season has already generated significant buzz.
With the jungle biomes and new mythic items, Fortnite Chapter 4 Season 3 promises to be an exciting addition to the popular Battle Royale game.
Previous Season Crossovers
Crossovers with popular franchises have become a staple of the Fortnite gaming experience, with the Star Wars crossover being one of the most memorable events from the previous season. The Find the Force event allowed players to complete challenges to unlock exclusive Star Wars-themed cosmetics, including skins for Kylo Ren and Rey. Additionally, players could purchase lightsabers and blasters from the in-game item shop to use during battles.
Another noteworthy crossover from the previous season is the ongoing Fortnite x Spider-Verse collaboration. This crossover brought various Spider-Man skins to the game, including Miles Morales and Gwen Stacy versions, along with a Spider-Man glider and emote. The collaboration also introduced a limited-time mode called 'The Spy Within,' where players had to work together to identify and eliminate enemy spies.
Overall, these crossovers added excitement and variety to the already popular Fortnite gaming experience.